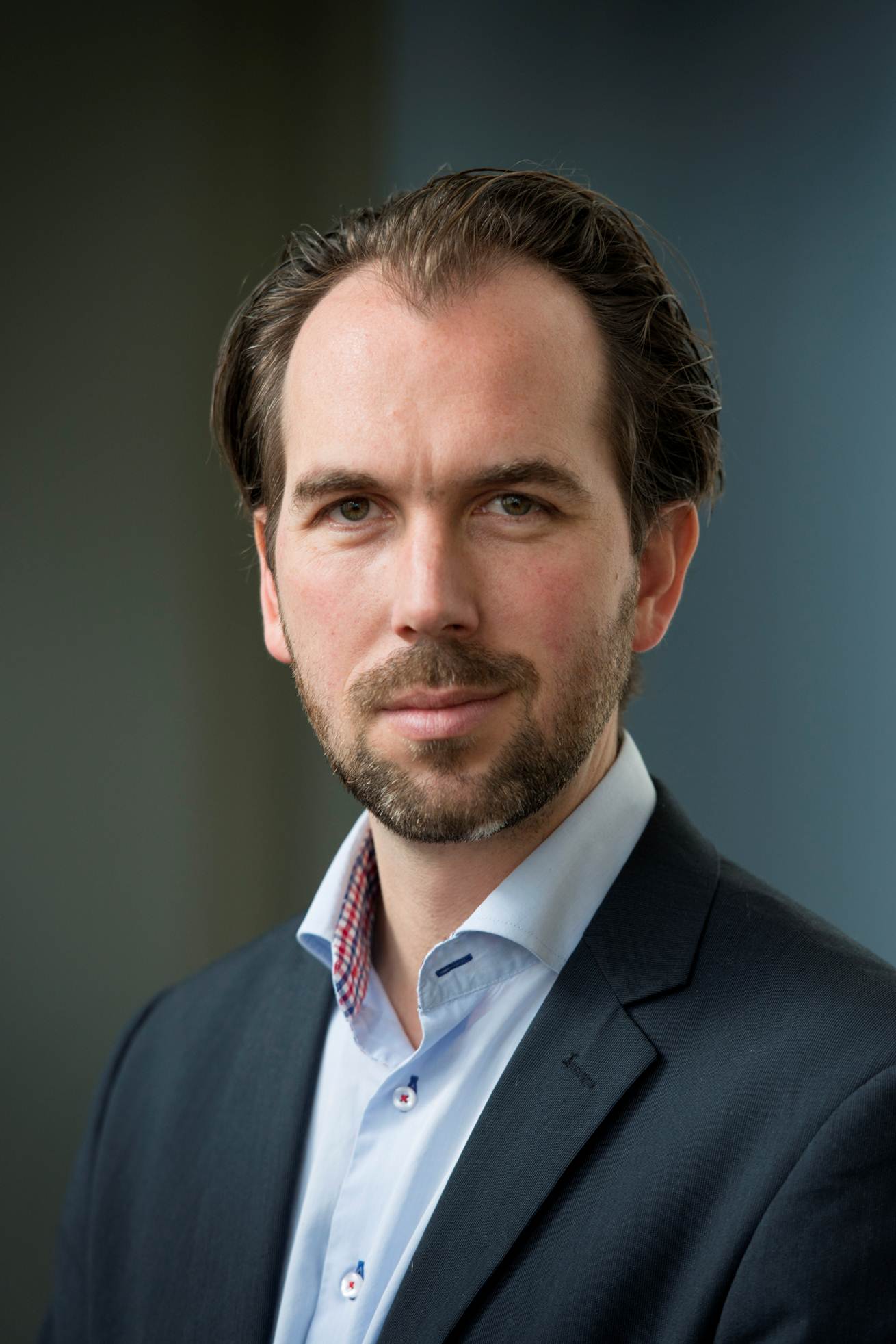 David van Bodegom

David van Bodegom is trained as a physician and historian, and works as a senior researcher at Leyden Academy. He is also a lecturer at the department of Public Health and Primary Care at the Leiden University Medical Center (LUMC), and supervises several PhD students in the field of healthy ageing, longevity, cost of elderly healthcare, and the impact of work on health and happiness.
He travelled to Ghana to conduct a large cohort study of the effect of the environment on the ageing process. The Ghanese elderly live in remarkably good health – without diabetes and cardiovascular disease – as a direct consequence of an environment that requires a lot of exercise, a healthy diet, a strong social network, a good night's sleep, and little stress.
David has made it his mission to transfer his findings from Ghana to interventions in our modern environment. Although he is trained as a physician, he has left the doctor's office in the belief that the public environment is the key to promoting healthy ageing.
In his most recent book Ontpillen (unmedicate) he  describes how many complaints and symptoms of the ageing process can be much better tackled by small changes in our daily routines instead of by taking pills. In this way, we can live longer in much better health with less medicines..
In 2015, David wrote the international bestseller A Guide to Growing Older, together with internationally reknowned ageing researcher Rudi Westendorp. In this book they explain how our environment influences our daily choices and can help us make healthier choices easier, sometimes even unconscious. This book was translated into Hungarian in 2017. In 2012 he wrote the Dutch novel Necessity Knows No Law (2012) based on his experiences in rural Ghana.
He is internationally acknowledged for his research on healthy ageing, which recently featured twice in the Sunday times. His 2015 TED-talk in which he promoted healthier aging through environmental nudges was an international hit.
International media highlights
As we get older, more and more things start to go wrong with our body. Many (age-related) ailments can be alleviated by lifestyle changes, but far more often than is necessary, we reach for pills. High blood pressure? Blood pressure pills. High cholesterol? Pills to lower cholesterol. High blood sugar? Pills to get blood sugar back under control. These pills suppress the symptoms but do not address the
underlying problem. In this book Ontpillen (Unmedicate), physician and ageing scientist David van Bodegom helps us to 'unmedicate'. How do you keep your bones strong, your heartburn in check, and your stomach and intestines healthy? Will you sleep better if you exercise more? Can you train your brain? And what can you do to prevent erectile dysfunction? You will also find out how to evaluate your blood pressure, sleep and mood, and how you can experiment to discover how your body responds to different lifestyle changes. Unmedicate will help you understand your body better and keep it in good condition.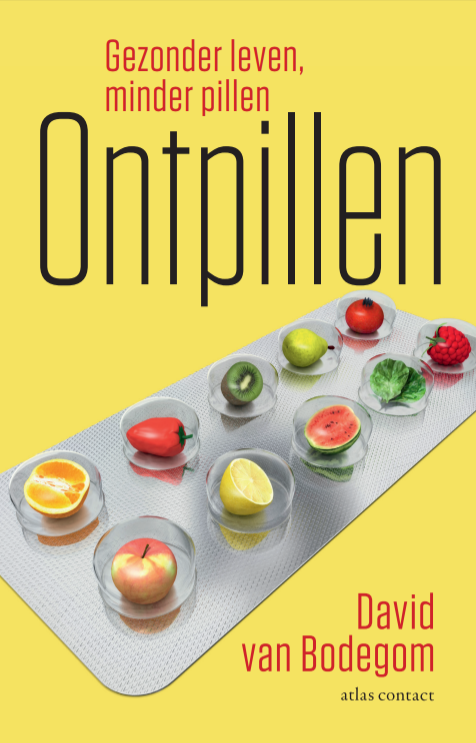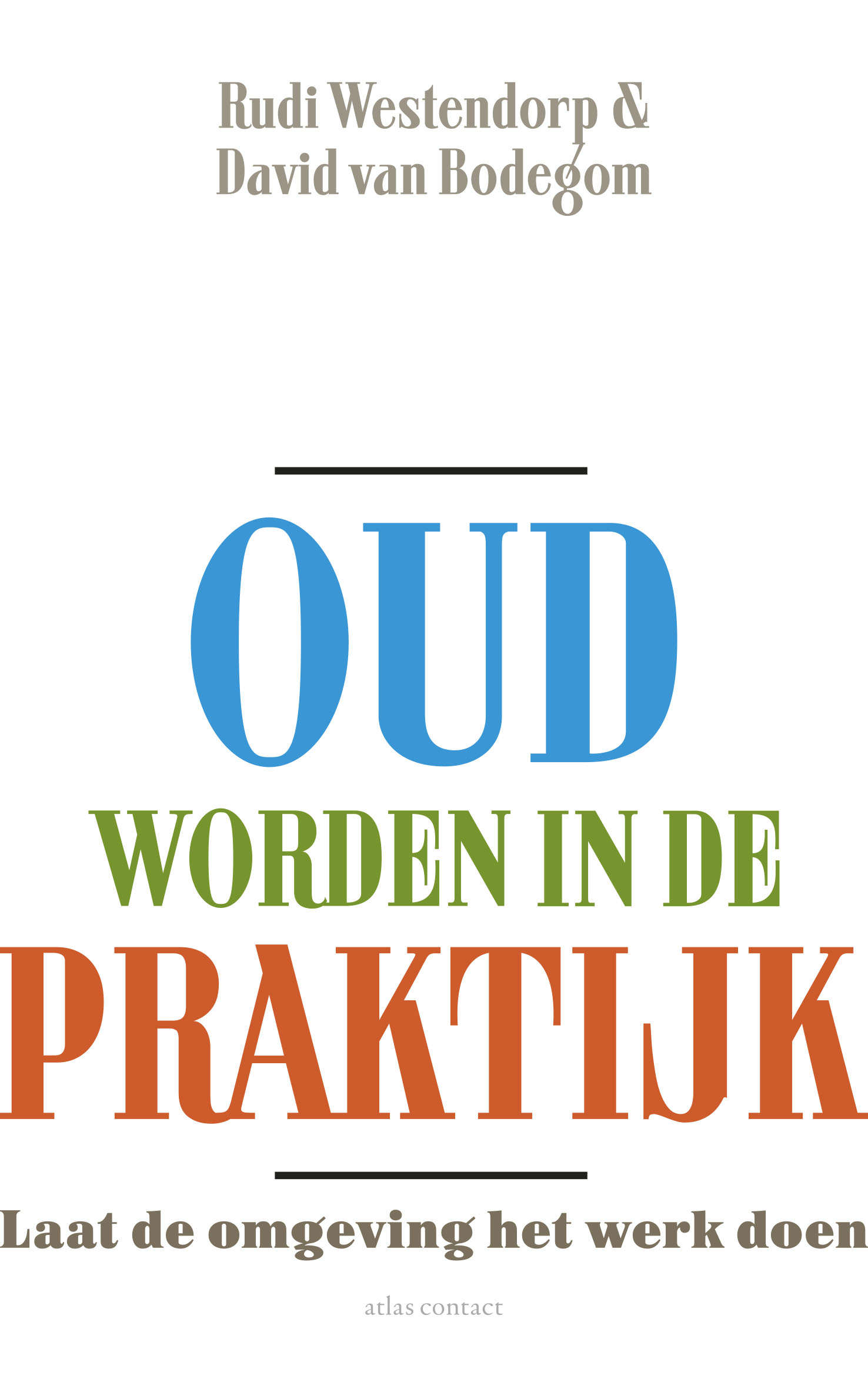 Together with prof Rudi Westendorp, an internationally renowned physician, researcher and best selling author, he wrote Oud worden in de praktijk' (Guide to growing older) in which they discuss how to stay healthy, even when you get older.
Many health complaints, such as cardiovascular disease, diabetes or joint problems seem inescapable but originate mostly from our lifestyle. And that lifestyle is dictated by the environment. The mismatch between our 'old' genes – our evolutionary heritage – and the 'modern' environment is the reason that we cannot resist the constant stimuli that seduce us to make unhealthy choices. Do's and don'ts cannot help us.
We have to let the environment do the work for us. By making small changes at our home, work, school or neighbourhood, healthier choices can become easier or even unconscious.
Oud worden in de praktijk takes a radical different approach at securing a  lifestyle which will keep you healthy up to high ages.
Hungarian translation: Tartalmas évek, Libris publishers 2017.
His observations in Africa led to his debut novel Nood breekt wet (Necessity knows no law) in 2012.
The novel tells the story of a young doctor of tropical medicine who -after nine years of study- sets foot in a desolated corner of Africa. In a tragicomic style, David van Bodegom paints a penetrating portrait of the ins and outs of an African mission hospital.
Africa however, also penetrates ever deeper into the young doctor and his ideals. Necessity knows no law. But what if life is a series of necessities and emergencies? Which law still holds? A book for people who dare to dream. Sometimes against all odds.
For all inquiries please contact:
davidvanbodegom@gmail.com